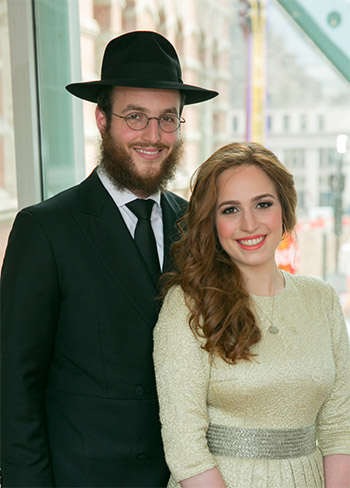 MEET RABBI ZALMAN BLECHER
Rabbi Zalman Blecher was born and raised in Melbourne, Australia. As an inspired student of the Lubavitcher Rebbe, of blessed memory, Rabbi Blecher identifies deeply with the Rebbe's mission to bring the joy and warmth of Judaism to every Jew. This motivation has inspired him to travel the world to bring the message of joyful Judaism to Jews in far flung locations, leading services and classes from the Greek Islands to Ukraine, and across the USA. Rabbi Zalman's warm demeanor and listening ear ensures an amiable encounter and makes him a cherished friend and mentor to many. He is excited by this endeavor of building a thriving, inspired Jewish community in Eastern Bucks County.
EDUCATION
After completing his primary education at Yeshiva College in Melbourne, Rabbi Blecher spent the next few years studying in rabbinical colleges in Toronto and the USA. Upon graduating from the Talmudic Seminary Oholei Torah, Rabbi Blecher completed a two year rabbinical internship in Caracas, Venezuela, assisting the local Jewish community with adult education classes and community outreach. Rabbi Blecher received his rabbinic ordination from Rabbi Yehuda Yeruslavsky, a prominent member of the Chabad Lubavitch Beth Din in Israel.
MEET CHAYA BLECHER
Chaya grew up right here in Bucks County! As a daughter of the Rebbe's emissaries, she was raised to cherish the joys of Judaism and to embrace and welcome others. Chaya has extensive experience in education and outreach. She has taught a wide range of ages in day-school and Hebrew-school. Her devotion to her students, coupled with a profound insight into the mind of a child, has earned the admiration of both parents and students. She also served as the program director of Lubavitch of Bucks County for five years, developing programming from which hundreds have benefitted. She looks forward to meeting you and your family!
EDUCATION
After graduating from the Beth Rivkah High School for girls in New York, Chaya received her diploma in education from Machon Shoshana Seminary in Jerusalem. She then completed an intensive teacher training program at Beth Rivkah Division of Higher Learning in New York, before moving back to Yardley to bring her passion for teaching to Abrams Hebrew Academy.     
 Together with their welcoming and non-judgmental approach, the Blechers are eager to share the joy and inspiration of Judaism with others, enhancing Jewish life in Yardley & Eastern Bucks County.